Indigeneity and Climate Justice 2019
Thanks to the attendees and supporters of the Indigeneity and Climate Justice Conference!
The Feminist Studies Department appreciates all who supported and attended this two-day conference on indigeneity and climate justice.  We were thrilled with the turn out, the amazing keynote speakers, and the intellectual community created by your participation.  Click the pictures below for larger versions.
---
The Feminist Studies Department presents
a Feminist Science Studies Conference on 
Indigeneity and Climate Justice
Organized by Karen Barad and Felicity Amaya Schaeffer
May 30 and 31
at the Arboretum Horticulture Hall II
---
Overview  |  Keynotes  |  Agenda  |  Travel  |  Co-Sponsors
---
Anthropogenic climate change is the notion that human actions are the main driver of the current climate crisis. The identification of the anthropos as origin and cause of global climate change elides the fact that climate change is not, and has never been, a universal homogenous process produced by all humans and affecting all humans equally, or as if by chance, some communities more than others (e.g., because they just happen to be living in precarious places). Rather, driven by the forces of capitalism, colonialism, militarism, and imperialism, climate change has been and continues to be perpetuated by the few, while those subjected to precaritization and violence are made to disproportionately absorb the ill effects of "progress" and "development." In other words, climate change has always been a matter of geopolitics and the ongoing precaritization of oppressed peoples, dominated lands, and other-than-human beings that are part of living landscapes. And lest we think of global climate change as a new phenomenon, a 2015 study of ice core samples reveals that European colonization of the Americas killed so many native peoples so rapidly (approximately 56 million in less than 100 years) that it cooled the Earth's climate.
The 2019 UCSC Feminist Science Studies conference takes as its focus the theme of "Indigeneity and Climate Justice." Climate Justice, as opposed to the more narrow framings of "environmental justice," marks the consideration of the entanglement of ecological, cultural, social, political, geological, biological and other forces, understood as simultaneous and mutually constitutive. A shared concern among our esteemed keynote speakers is the question of how to respond to the challenges and potentials of collaborative engagements between Indigenous and non-Indigenous approaches to caring for the Earth.  We invite them to engage in conversation with each other and students, faculty, staff, and other conference participants about these pressing questions of multiple ontologies, epistemologies, and uneven responsibilities.
Free and Open to the Public. 
---
Keynote Presentations
From Environmental Case Study to Kin-Study:
Weaponized Fossil Kin, Fish, Water, and Métis Legal Orders and Relationality in the Alberta Petro-Economy
Zoe Todd
Métis Scholar of Sociology and Anthropology, Carleton University, Canada
Visiting Professor of History, Yale University
This talk explores Alberta, Canada as a site of intense western knowledge production about topics that are currently 'hot' in euro-western academe, such as: extinction, the Anthropocene, environmental degradation, climate change, and energy studies.  Challenging the tendency for scholars to literally or figuratively drop into Alberta to mine it for data and information, Todd explores what it means to re-situate studies of earth violence in the Alberta petro-state as ones that require deep relationality and reciprocity.

Zoe Todd (Métis) is an artist and scholar from amiskwaciwâskahikan (Edmonton), Canada. She is an Assistant Professor at Carleton University in Ottawa, Canada where she is affiliated with the Department of Sociology and Anthropology and the School of Indigenous and Canadian Studies.  She holds a BSc in Biological Sciences (University of Alberta), an MSc in Rural Sociology (University of Alberta), and a PhD in Social Anthropology from the University of Aberdeen.  She writes about fish, science, art, prairie fossilscapes, Métis legal traditions, the Anthropocene, extinction, and decolonization in urban and prairie contexts.  In the past, she has researched human-fish relations and arctic food security in the Inuvialuit Settlement Region in the Northwest Territories, Canada. Her current work focuses on the relationships between people, fish, and other nonhuman kin in the context of colonialism, environmental change, and resource extraction in Treaty Six Territory (Edmonton, amiskwaciwâskahikan), Alberta and the Lake Winnipeg watershed more broadly.
Current and Future Effects of Climate Change on the Amah Mutsun Tribe: Local Steps to Take Now!
Valentin Lopez
Chairman, Amah Mutsun Tribal Band
Valentin Lopez has been the Chairman of the Amah Mutsun Tribal Band since 2003, and is a standing member on all Tribal committees and Boards. One of three historic tribes recognized as Ohlone, the Amah Mutsun are comprised of the documented descendants of Missions San Juan Bautista and Santa Cruz. Valentin is Mutsun, Awaswas, Chumash and Yokuts. He is a Native American Advisor to the University of California, Office of the President on issues related to repatriation. He is also a Native American Advisor to the National Alliance on Mental Illness (NAMI) and the Phoebe Hearst Museum of Anthropology. Valentin is actively involved in efforts to restore tribal indigenous knowledge and ensure its history is accurately told. He is working to restore the Mutsun Language and is a traditional Mutsun singer and dancer. 
Upside Down Country
Timothy Neale
Alfred Deakin Postdoctoral Research Fellow of Anthropology and Geography
Deakin University, Australia
For some, it seems, the concept of the Anthropocene has delivered a welcome dose of universalism.  We must put aside the differences which previously proscribed the very existence of a 'we' - the ethics which outlawed such pronouns as a presumptuous act of capture - and see that beings on this planet are unified by their inevitable geological materiality; the dark anthropogenic end of their stony fate.  In this presentation, Neale offers a critique of these universalist and redemptive manoeuvres by exploring the temporality, offered by several Indigenous interlocutors, of 'upside down Country.'  What practices and horizons are meaningful in a place where Country - or, the emplaced and providential order of things - has been churned and flipped?

Timothy Neale is a pakeha (settler) researcher and teacher from Aotearoa New Zealand but currently lives in Naarm/Melbourne, Australia, where he holds an appointment as Senior Lecturer in Anthropology and Geography at Deakin University.  His research focuses on environmental governance, settler-Indigenous relations, technoscience, and the intersections of those three topics.  He is the author of Wild Articulations: Indigeneity and Environmentalism in Northern Australia (University of Hawaii Press, 2017).
 Who Has the Right to Declare the Urgency of Addressing Climate Change?
Kyle Powys Whyte
Timnick Chair in the Humanities
Associate Professor of Philosophy and Community Sustainability
Michigan State University
Climate change activism and scientific assessments often emphasize that humans must grasp the urgency of taking swift and decisive actions to address an environmental crisis.  Yet many such conceptions of urgency obscure the factors that Indigenous peoples have called out as the most pressing concerns about climate justice.  This obfuscation explains, in part, why climate change advocacy remains largely unrelated to Indigenous efforts to achieve justice and engage in decolonial actions.  Whyte shows why a politics of urgency can be based in assumptions about the relationship among time (temporality) and environmental change that are antithetical to allyship with indigeneous peoples and, ultimately, climate justice.  
Kyle Whyte is a professor in the departments of Philosophy and Community Sustainability and holds the Timnick Chair in the Humanities at Michigan State University.  His work focuses on environmental justice, especially climate change issues that Indigenous peoples face in planning, policy, science, and activism.  He is a Potawatomi and an enrolled member of the Citizen Potawatomi Nation. 
---
Agenda
Thursday, May 30
9:30am - Mingling and continental breakfast
10:00am - Conference Welcome
10:30am - Chairman Valentin Lopez
15 minute break
11:30am - Professor Zoe Todd
1:00pm - Lunch
2:00pm - Professor Kyle Powys Whyte
3:30pm - Conclusion
Friday, May 31
9:30am - Mingling and continental breakfast
10:00am - Conference Welcome
10:15am - Professor Timothy Neale
15 minute break
12:00pm - Arboretum Tour with Rick Flores, Curator of the California Native Plant Collection and Associate of the Amah Mutsun Land Trust 
1:00pm - Lunch
2:00pm - Final Roundtable with keynoters and graduate students
3:00pm - Conclusion
---
Travel
The Arboretum at UCSC is accessible on the west side of campus, between the main entrance and west entrance. 
APPROACHING VIA HIGHWAY 17 FROM THE NORTH
OR HIGHWAY 1 FROM THE SOUTH
As you approach Santa Cruz, follow signs to "Half Moon Bay / Highway 1 North"
Highway One stops being a divided highway and becomes Mission Street in Santa Cruz. Remain on Mission St./Highway 1 for about a mile
Turn right onto Bay Street (there's a traffic light) going up to the UC campus
Turn left at the High St. traffic light at the base of campus (don't go in the main entrance)
Stay on High Street for approx 1/2 mile, the entrance to the Garden is to your right
If you arrive at the West entrance to campus, you have gone too far
For directions to the Arboretum, please visit https://arboretum.ucsc.edu/visit/directions/index.html.
DIRECTIONS TO HORTICULTURE II
The conference will be held in the Horticulture Meeting Hall II, indicated by the number 2 on the map below. 
Upon entering the Arboretum off of High St., you will pass a kiosk on the right
Follow the road uphill and take the first left towards the California Conservation Gardens
Park along the lefthand side
PARKING
Carpooling is strongly recommended as parking is limited at the Arboretum.  Parking may not be contiguous to the Horticulture Hall, so guests should be prepared to walk from the car to the event space.
Accessible parking is available immediately adjacent to the hall.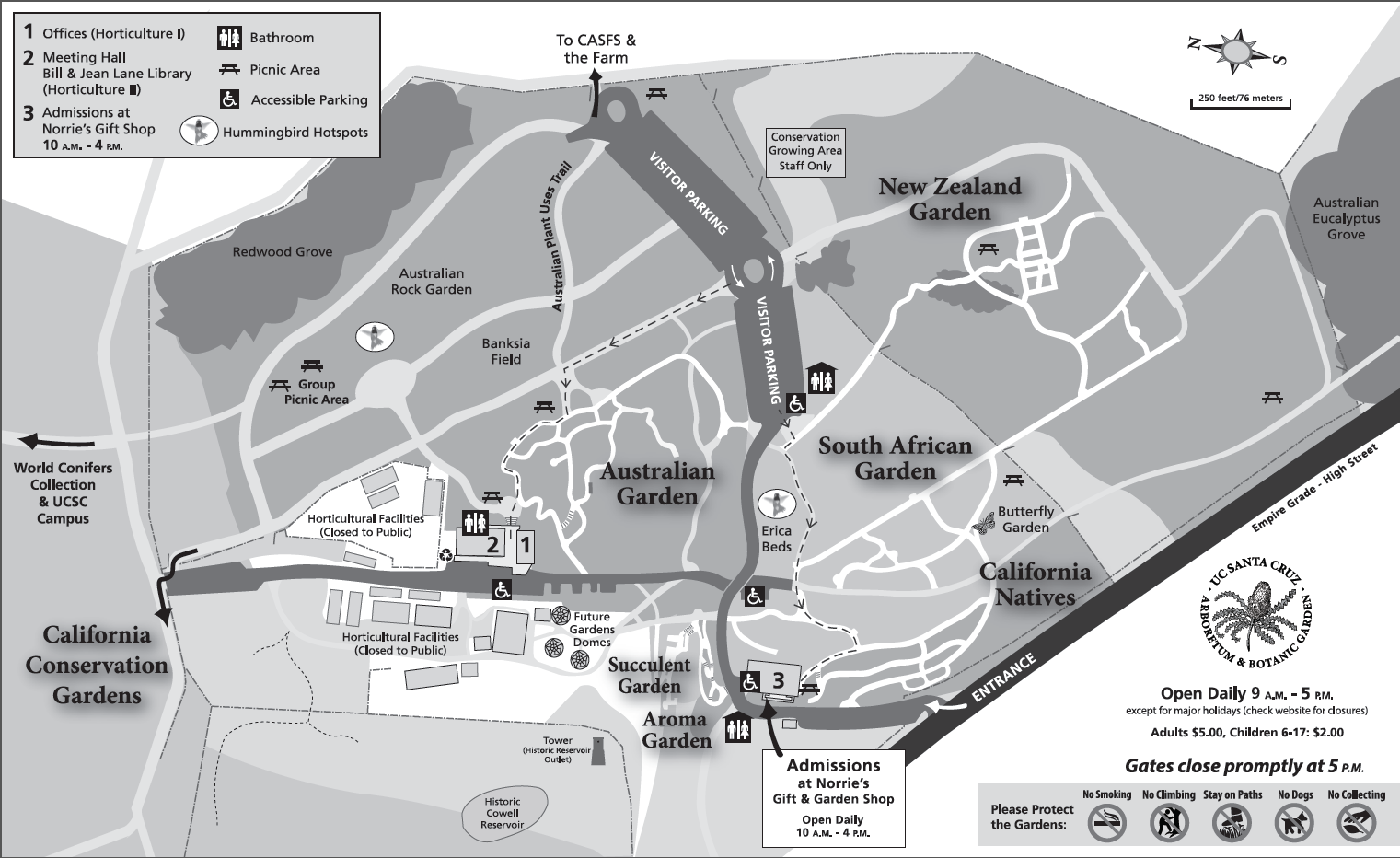 ---
Thanks to our co-sponsors
| | |
| --- | --- |
| Presidential Chair in Feminist Studies | Campus Provost & Executive Vice Chancellor, Marlene Tromp |
| | |
| | |
| | |
| The Sociology Department | |
| | The Environmental Studies Department |